Ecstatic Expression in Song
Presented by:
The Opera Project
Category:
Live Music
Price:
$20
Date:
June 29, 2018 – June 29, 2018
Time:
7:00 PM – 8:30 PM
Address:
Bethlehem Lutheran Church, 320 East 15th Ave. Vancouver, Vancouver, British Columbia V5T 2R1
Website:
http://www.theoperaproject.org/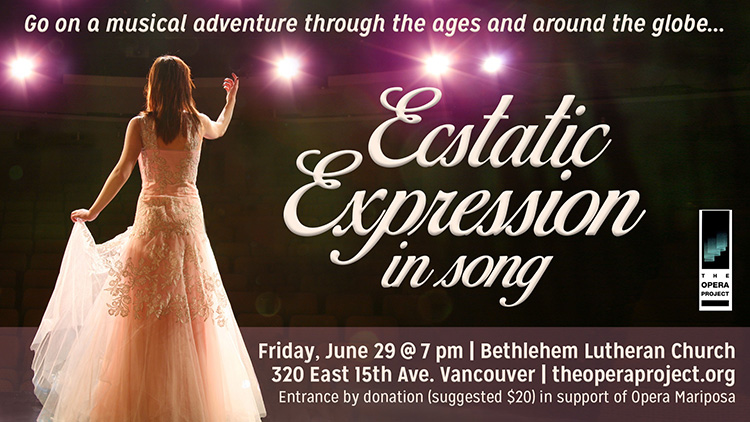 The Opera Project presents an musical extravaganza featuring stirring arias, traditional costume and an international guest star! Acclaimed Canadian soprano Heidi Klassen leads an all-star cast on a musical adventure from the early music of Bach, Handel and Mozart to romantic highlights by Verdi and Puccini. Enjoy familiar favourites like Gershwin alongside sensual Spanish guitar, Chinese and Turkish music. Don't miss a guest appearance by Arzu Semerci from Istanbul Opera, performing with the Vancouver Turkish Choir Orchestra.
Admission at the door by donation (suggested $20). Proceeds support Opera Mariposa, a Vancouver organization for young and emerging performers.
Social Media Links
Get Directions
320 East 15th Ave. Vancouver BC V5T 2R1
Other Events
No Similar Events Found