Geektopia – Fan & Comic Convention.
Presented by:
Van Expo
Category:
Festivals
Price:
$25
Date:
July 6, 2019 – July 6, 2019 (Repeats Every Year)
Time:
10:00 AM – 10:00 PM
Address:
760 Pacific Blvd, Vancouver, British Columbia V6B 5E7
Website:
http://www.vanexpo.ca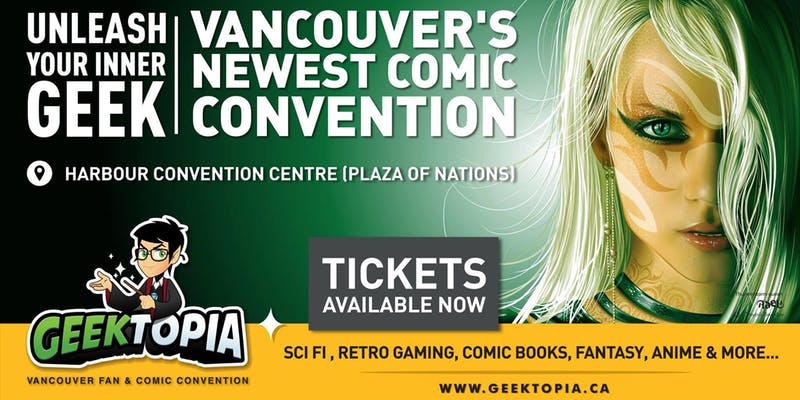 VAN EXPO Presents: GEEKTOPIA 2019 – A Journey to Somewhere.
Vancouver's Newest Comic Convention
EVENT INFO: Cosplay, Panels, Celebrity Guests, Vendors, Artists & Entertainment.
GENRE: Sci-Fi, Retro Gaming, Comic Books, Fantasy, Anime, Horror, and much more!
WEBSITE: http://WWW.GEEKTOPIA.CA
PART OF THE PROCEEDS GOING TO: The Amanda Todd Legacy Foundation
DATE: Saturday July 6, 2019
TIME: 10:00 am – 8:00 pm
LOCATION: Harbour Convention Centre (Formally Edgewater Casino)
Plaza Of Nations 311 – 750 Pacific BLVD, Vancouver BC, V6B 5E7, Canada
……………………………………………………………………………..
Every person has an unwritten adventure waiting to begin, a fantasy that fuels their soul and a prophesy that must be fulfilled. As close as a midnight dream, a mystical realm exists where all your deepest desires come true. A place where magic and science are one in the same and the future is brought into the present.
Social Media Links
Get Directions
760 Pacific Blvd, vancouver
Other Events
No Similar Events Found