City of Richmond – Britannia Shipyards National Historic Site
Organization Type:
Arts, Culture & Heritage
Address:
5180 Westwater Drive, Richmond, British Columbia V7E 6P3
Website:
https://www.richmond.ca/culture/sites/britannia/about.htm?PageMode=HTML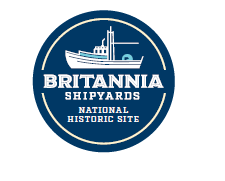 Britannia Shipyards National Historic Site is currently recruiting for Heritage Ambassador volunteers! As a Heritage Ambassador, share the stories of the people who lived and worked at Britannia. You will be dressed in period costume while demonstrating activities that would've taken place at Britannia during its heyday. You will help with animating and activating the site with activities such as playing cards, maritime know tying, unique boat building techniques, embroidery, vintage lawn games, sewing and more! No experience required with training and costumes provided. Volunteers will not be acting/in character. Volunteers must be 15+ years, have excellent communication skills and be willing to learn and share their knowledge and enthusiasm with the public.
Shift times are: Fall/Winter/Spring 11:45am-4:15pm, Tue-Sun
Summer (May 20-Sep 5) 10:45am-4:15pm, 7 days a week
Social Media Links
City of Richmond – Britannia Shipyards National Historic Site's Volunteer Opportunities
No Entries Found
Contact City of Richmond – Britannia Shipyards National Historic Site
Get Directions
5180 Westwater Drive, Richmond, British Columbia V7E 6P3