North Shore Stroke Recovery Centre
Organization Type:
Health & Medical
Address:
225 East 2nd Street, North Vancouver, British Columbia V7L 1C4
Website:
https://nssrc.org/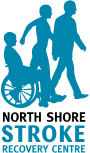 Our vision is to create a community without barriers for survivors of stroke.
At the NSSRC, we envision a future without barriers for survivors of stroke.  Since 1974, our team has worked on the organization's mission to maximize the quality of life for people impacted by stroke through accessible programming, peer support and healthcare partnerships.  We are the only community-based program that supports stroke recovery for North & West Vancouver and Sea-to-Sky corridor residents, operating 4 days of therapy and support programming per week.
At the NSSRC, we seek to work with individuals of diverse characteristics, backgrounds and perspectives. We strongly believe that passion and talent makes no distinctions based on gender, ethnic or national origin, sexual identity and orientation, age, religion or disability, but enriches itself through these differences.
Social Media Links
North Shore Stroke Recovery Centre's Volunteer Opportunities
No Entries Found
Contact North Shore Stroke Recovery Centre
Get Directions
225 East 2nd Street, North Vancouver, British Columbia V7L 1C4