One to One Literacy
Organization Type:
Education & Schools
Address:
500-610 Main St., Vancouver, British Columbia V6A 2V3
Website:
http://www.one-to-one.ca/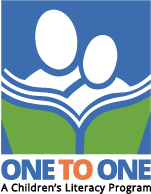 We're a free literacy tutoring program backed by a mission to help children develop lifelong literacy skills. ONE TO ONE's program is free to all parents and schools and is available to any elementary school student whose teacher believes they need a reading-skills boost. Each student meets two to four times a week with a ONE TO ONE volunteer tutor. For 30 minutes at a time, they read in an environment where it is okay to take risks, make mistakes, and learn at their own pace.
Social Media Links
One to One Literacy's Volunteer Opportunities
Organization:
ONE TO ONE Literacy
Category:
Education / Training / Teaching
Description:
Open the world of reading to a child and become a volunteer tutor!   ONE TO ONE Literacy Society is looking for enthusiastic, compassionate, and open-minded individuals to share the
…Read More
Contact One to One Literacy
Get Directions
500-610 Main St., Vancouver, British Columbia V6A 2V3