Vancouver Kiwanis Music Festival
Organization Type:
Arts, Culture & Heritage
Address:
Vancouver, British Columbia V6H 1P4
Website:
http://www.vkmfestivals.org/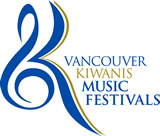 "Inspiring Musical Excellence"
Welcome to the Vancouver Kiwanis Music Festivals – dedicated to the encouragement, instruction and celebration of young musicians in Greater Vancouver and the Lower Mainland.
With an esteemed heritage dating back to the Knights of Pythias in 1923, and under the attentive stewardship of the Kiwanis Club of Vancouver since 1960, ours is now B.C.'s premier music festival, offering professional adjudication to some 7,500 students in high school bands and choirs, and in the private study of classical voice, music theatre, piano, strings, brass, woodwinds and chamber music. In recent years several solo instrument catetories have been added and include: classical guitar; harp and Chinese Ethnic instruments making ours a truly multi-cultural event. Especially gifted students can go on to compete at the Provincial and National levels.
In 2009, with continued support from the Vancouver Kiwanis Club, we became a separate Society. We also greatfully "acknowledge the financial support of the Province of British Columbia" for their award of a Community Gaming Grant.
We know helping to foster an appreciation for music, hard work and commitment in one child positively impacts not just their lives but the future of our community and our world. That's why even when we hear a song sung a little off-key or a few missed notes — it's all music to our ears.
Social Media Links
Vancouver Kiwanis Music Festival's Volunteer Opportunities
No Entries Found
Contact Vancouver Kiwanis Music Festival
Get Directions
Vancouver, British Columbia V6H 1P4